BE SHELL ROLO AND BALL CHAIN NECKLACE SET
---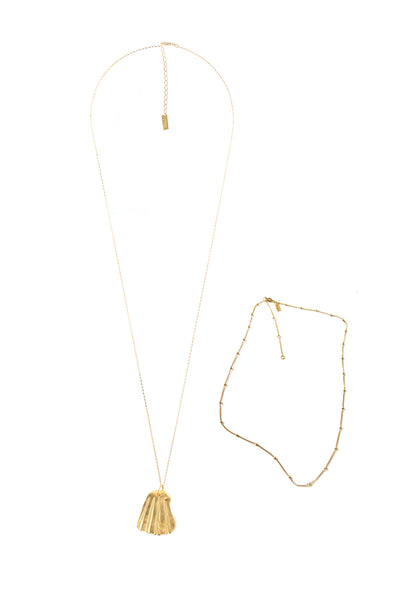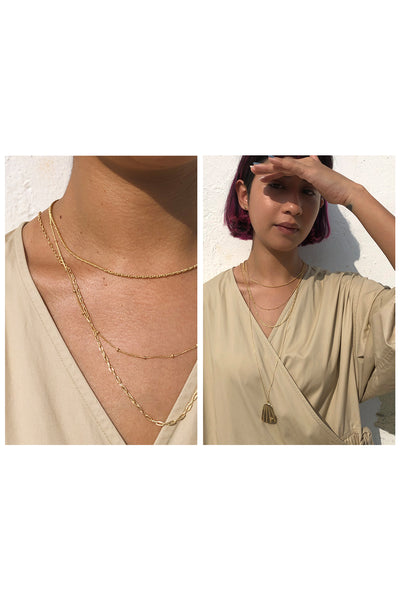 Be Shell Necklace + Ball Chain Set
Set of  
'Be'
 shell amulet and ball chain 
- 18k gold plated over recycled bronze

- Height 3.45 Width 3.03cm / 1.3" x 1.1"
- Weight 10.90g
- Shell found on Ancaò beach
- Rolo Chain
Length: 76cm / 30" (6cm / 2" extender)
- Ball Chain Length: 57cm / 22" (5cm / 1.9" extender)
- Handmade in Bali

Both Rolo and Ball chains are recycled silver plated with 18K gold, designed for layering and stringing singular or multiple shell amulets.
Each set is placed in a reusable jewellery pouch and box. 
If it's a gift, let us know by including your personalised message at checkout.
Found is a collection that beckons the nostalgia of finding keepsakes the ocean left out for us under the sun. It is a nudging reminder to behold the abundance that surrounds us. The jagged lines and wabi-sabi beauty of the shells call to its odyssey; a collision of waves and wind as it finds its way pressed into sandy shores. Note the affirmations delicately engraved on the back, a secret enchantment to hold close to the heart.
Essential: What is a mountain without a peak? A river without fluidity? The Essential collection aims to grace hands, necks and ears with daily staples we hope will become part of your nature. Suitable for any mood, these lightweight beauties fit like a second skin and intend to reflect your inner essence.