ALL
GOLD BREATHE SHELL EARRINGS
---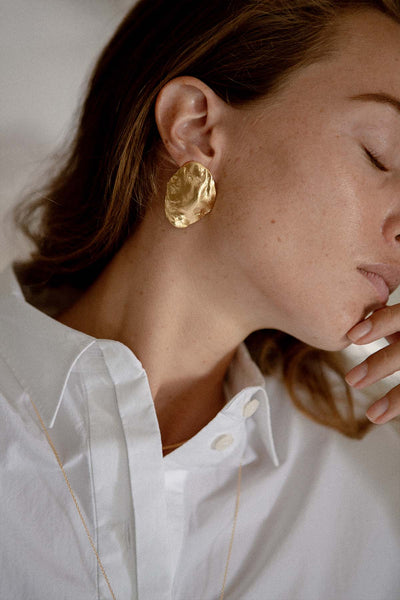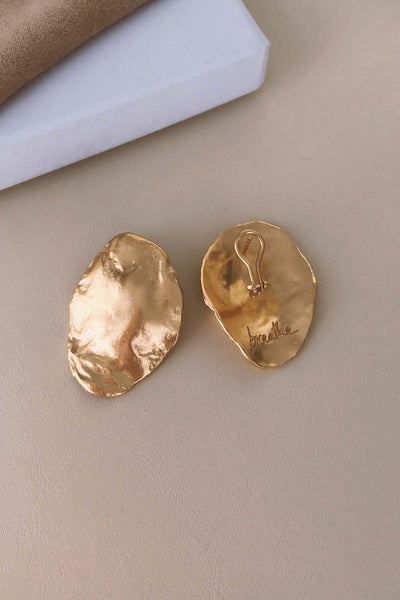 A pair of beautifully textured and organically formed shells found on our travels were made into moulds then casted in 18k gold over recycled bronze — engraved on the back 'Breathe'. It's the perfect reminder to hold close to the heart or in this case to whisper in the ear. Light on the lobes, they appear to float.
- 18k gold plated recycled bronze
- Height 4.4 Width 3.2cm / 1.7" x 1.2"
- Weight 12.10g
- clip back fastening for pierced ears
- Shell found on Canggu beach
- Handcrafted in Bali
 -
Found is a collection that beckons the nostalgia of finding keepsakes the ocean left out for us under the sun. It is a nudging reminder to behold the abundance that surrounds us. The jagged lines and wabi-sabi beauty of the shells call to its odyssey; a collision of waves and wind as it finds its way pressed into sandy shores. Note the affirmations delicately engraved on the back, a secret enchantment to hold close to the heart.
There's More To Love
---